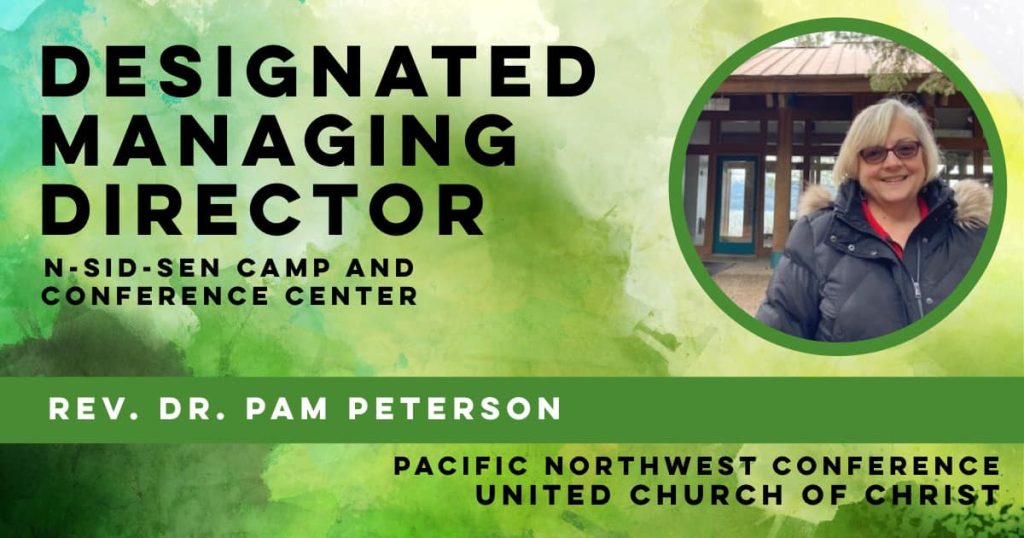 The N-Sid-Sen Search Committee is pleased to announce that Rev. Dr. Pam Peterson will be joining our Conference staff team on April 1 (no foolin'), as the new Designated Managing Director of N-Sid-Sen Camp & Retreat Center.

Pam (she/her) comes to us from the Montana Northern-Wyoming Conference of the UCC where she most recently served as the pastor of Red Lodge Community Church, United Church of Christ. In that role, she led her community through the pandemic as well as an area wildfire and flood. Prior to that call, Pam served as an interim minister and trauma chaplain since graduating from Lutheran Theological Seminary in Philadelphia with her Masters of Divinity in 2011. Before the world of ordained ministry, she amassed decades of experience working in administrative business operations positions in the non-profit and corporate sectors, including six years of experience in camp management at two camps in New York. Notably, Pam helped revitalize Camp Merz, a Boy Scout Camp that had fallen on hard times, guiding it to become the safe and sustainable camp it is today. She also worked on year-round program development, marketing, and recruitment for a YMCA camp.
WELCOME HOME TO N-SID-SEN!
Since 1935, N-Sid-Sen has welcomed thousands of children, youth and adults to their home on the lake for summer camp and year-round retreat experiences. We hope you'll join us in 2023!
Come, enjoy and immerse yourself in creation. Explore nearly 300 acres of woodlands, creeks and meadows nestled along the shores of Lake Coeur d'Alene. Relax and sip coffee with friends on one of our many scenic decks and patios. Worship along the lakeshore or on a mountain top.
Our facilities provide unique opportunities for exploration, growth, and renewal to groups of 16 to 150 participants. Our guests and campers come from a wide variety of backgrounds, faith traditions and community groups. You are welcome here.
Registration for Summer Camp 2023 is now open!

Overnight Events for your GROUP at N-Sid-Sen
Consider an escape to the lake – tasty meals and comfortable beds provided. We still have a few openings this spring and summer. Fall and winter are filling quickly, but there are still some prime dates available.
"N-Sid-Sen, the Point of Inspiration, where folks gather on the shore of Lake Coeur d'Alene for inspiration, community and connection . . ."