Meet Our New Director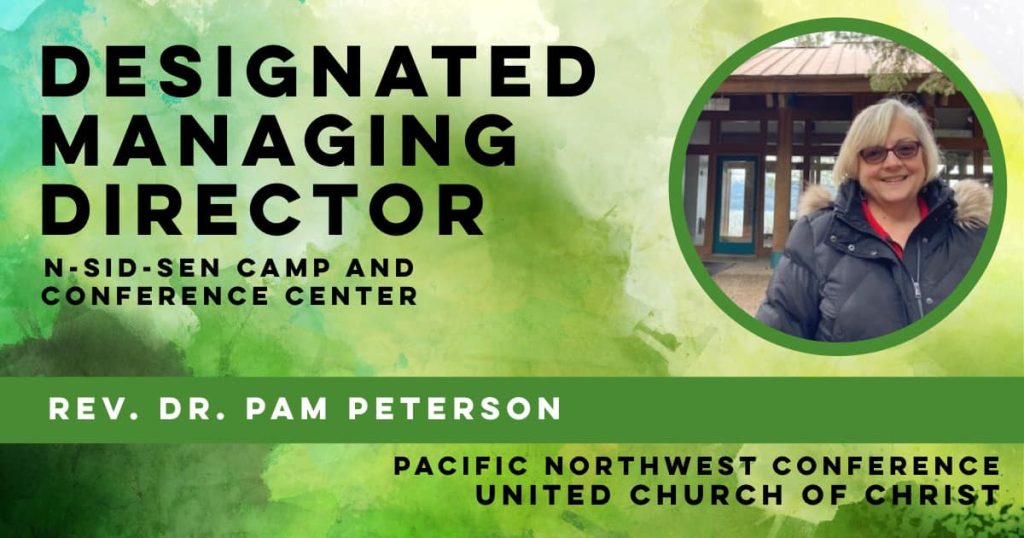 Pam Peterson, who comes with six years of camp management and a passion for eco-theology and worship in the wilderness, has been named as the designated director at N-Sid-Sen. She is moving from Red Lodge, Mont., to join the PNC staff on April 1, working with other new staff at the PNC's camp and conference center on Lake Coeur d'Alene.

While she is most recently from Montana, Pam's mother, siblings, nieces and nephews are scattered in different parts of Chautauqua County in western New York, where she grew up in Mayville on Chautauqua Lake and established her love of the outdoors.
She was a stay-at-home mother of two sons—Kevin now in Colorado and Kyle now in Florida—when she began working nearby at Camp Merz Boy Scout Camp on the lake, running it from 1994 to 1999, followed by a year at the YMCA Camp also on the lake.
She helped revitalize that camp that had fallen on hard times, building it to be the safe, sustainable camp it is today. She also worked on year-round program development, marketing and recruitment for a YMCA camp, also on Chautauqua Lake.
In college, she stayed close to home, earning an undergraduate degree in nonprofit administration in 2005 at the State University of New York Empire State College in Fredonia—in North Chautauqua County.
For a few years she worked at Evenstart, a federal literacy program and then was administrative coordinator at the Achievement Center, an early intervention education nonprofit.
Having grown up in the Evangelical Lutheran Church in America, when she felt called to ministry, she headed to Lutheran Theological Seminary in 2008 at Philadelphia. Because her younger son was living in Connecticut, she shifted to Hartford Seminary, focusing studies on being a health care chaplain. She earned a master of divinity in 2011.
"There, I realized I was a broader thinker," Pam commented, "and I transitioned to the United Church of Christ."
She was ordained and worked as a trauma chaplain Thursdays and Fridays and then drove to the Adirondacks to camp.
"My parsonage was a tent in the summer," she said.
While there she met members of the Presbyterian Community Church in Old Forge, N.Y. Their pastor left so she trained to be an interim pastor and served a year until they were found a settled pastor.
Pam then accepted a call to the Red Lodge Community UCC Church, where she finished a doctor of ministry degree through Hartford International University—the new name for Hartford Seminary.
In Red Lodge, she had envisioned developing a parallel church, offering a standard worship and worship in the wilderness, geared to tourists in the summer.
Just as she planned to start those services, the summer skies were filled with smoke from wildfires. With COVID, the next summers' plans included some outside worship along with online worship. Last summer, the Yellowstone eco-disaster and flooding damaged her house and the church, again refocusing attention. The next months were spent rebuilding the church. Then members wanted to worship inside the newly rebuilt building.
Much as she loves the outdoors, she also learned that tent camping was not wise in Montana because of the grizzly bears.
"To be a camp and retreat administrator living on a lake front, I see potential to do worship in the wilderness as part of summer camps and retreats," Pam said. "I'll also have opportunity to educate pastors about worship in the wilderness, especially as I travel to visit churches to promote the camp experiences."